The New Expressionists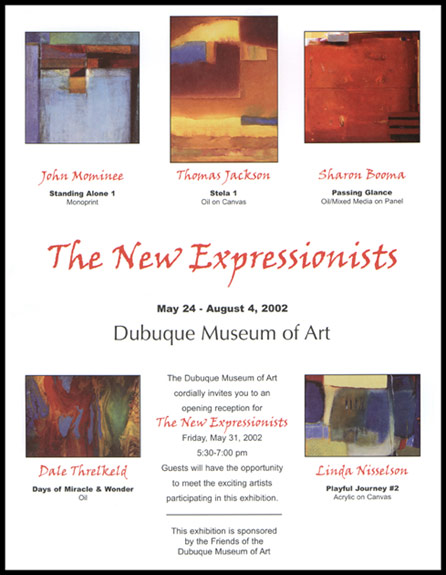 Above is the inside of the mailer the Dubuque Museum of Art used to announce the show. The following photo shows portions of the article on the New Expressionits show that appeared in the Dubuque Telegraph Herald Thursday, May 16,2002 (the text is transcribed below):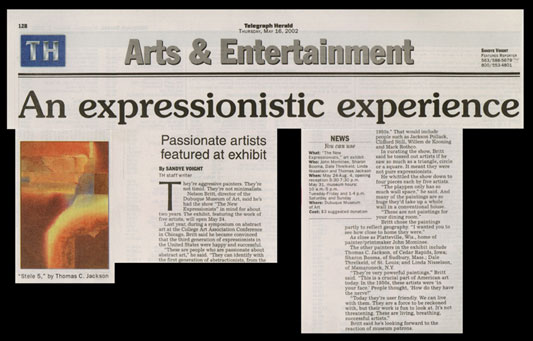 [headline] An expressionistic experience
[subhead] Passionate artists featured at exhibit
[copy] They're aggressive painters. They're not timid. They're not minimalists. Nelson Britt, director of the Dubuque Museum of Art, said he's had the show "The New Expressionists" in mind for about two years. The exhibit, featuring the work of five artists, will open May 24.
Last year, during a symposium on abstract art at the College Art Association Conference in Chicago, Britt said he became convinced that the third generation of expressionists in the United States were happy and successful.
"These are people who are passionate about abstract art," he said. "They can identify with the first generation of abstractionists, from the 1950s." That would include people such as Jackson Pollack, Clifford Still, Willem deKooning and Mark Rothko.
In curating the show, Britt said he tossed out artists if he saw so much as a triangle, circle or square. It meant they were not pure expressionists.
He whittled the show down to four pieces each by five artists…
"These are not paintings for your dining room"
The … painters in the exhibit include John Mominee of Platteville, WI; Thomas C. Jackson, of Cedar Rapids, Iowa; Sharon Booma, of Sudbury, Mass; Dale Threlkeld, of St. Louis; and Linda Nisselson, of Mamaroneck, N.Y.
"They're very powerful paintings," Britt said. "This is a crucial part of American art today. In the 1950s, these artists were 'in your face.' People thought, 'How do they have the nerve?'
"Today they're user friendly. We can live with them. They are a force to be reckoned with, but their work is fun to look at. It's not threatening. These are living, breathing, successful artists."
Britt said he's looking forward to the reaction of the museum patrons.
[Accompanying the article were color photos of several of the artists' paintings, including Stele 5 by Thomas C. Jackson.]
To views of Thomas C. Jackson's paintings in the New Expressionists Show