Sketches for Whimsical Paintings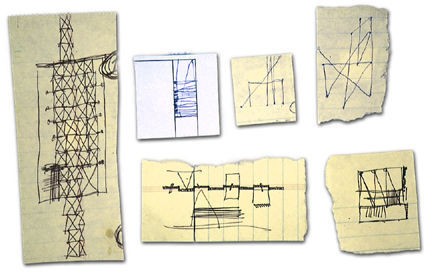 Click on each sketch to view the finished painting. Use your browser's back button to return to this page.
Story
Several years prior to leaving my career in marketing in 2000 I suddenly noticed that I had made a small sketch or doodle in the margin of a notepad during a meeting. I was struck by the shapes and visualized this sketch becoming a large painting. After that I went through my files to find notes that I'd taken in previous months and yearsduring business meetings and phone calls. I learned that I had been making these sketches for about a year but not before that time. I began ripping the edges off of my notepad when I found these sketches and putting them in a large envelope. These sketches became the basis for the Whimsical series of watercolors, acrylics, and oils, as well as many of the Inscribed oils. Because I didn't plan to make these sketches and did them mostly unconsciously, I thought of them as found objects that contained surprising opportunities for dividing space.
Back to Mannequin, acrylic on canvas