---
Iowa Pastimes:
Politics and State Fairs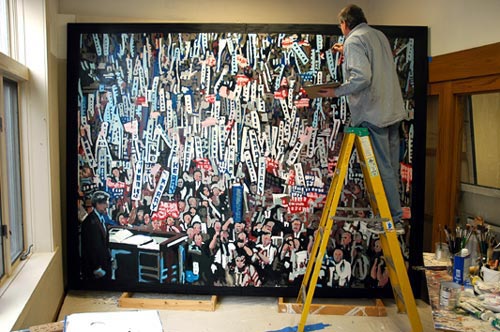 Artist's Statement
I strive to make relevant, memorable American images that make people think.
The media coverage of the events of 9/11 and the Iraq war made a powerful impression on me. I began thinking more and more about American images. During the 2004 political campaign I became fascinated with how political parties used images to create policy positions in voters' minds. These images took on different meanings depending on each viewer's beliefs and experiences. People saw what they wanted or expected to see. I was also fascinated with how the media combined images with slogans to summarize stories.
This conscious study of political, media, and other news images led me to take a closer look at America. It began a dramatic shift of focus in my work from non-objective compositions to the use of specific imagery. I made the commitment to spend a large portion of my time photographing images that intrigued me. I focus on finding the extraordinary in ordinary American life. I am interested in reflecting the mood and feeling of our era.
While these compositions are representational, I have pushed contrast, texture, and color intensities; flattened areas, and eliminated detail. These changes add drama and make each piece as much about color, paint and painting as recording reality.